5 Reasons Why Millennials are Choosing Homeownership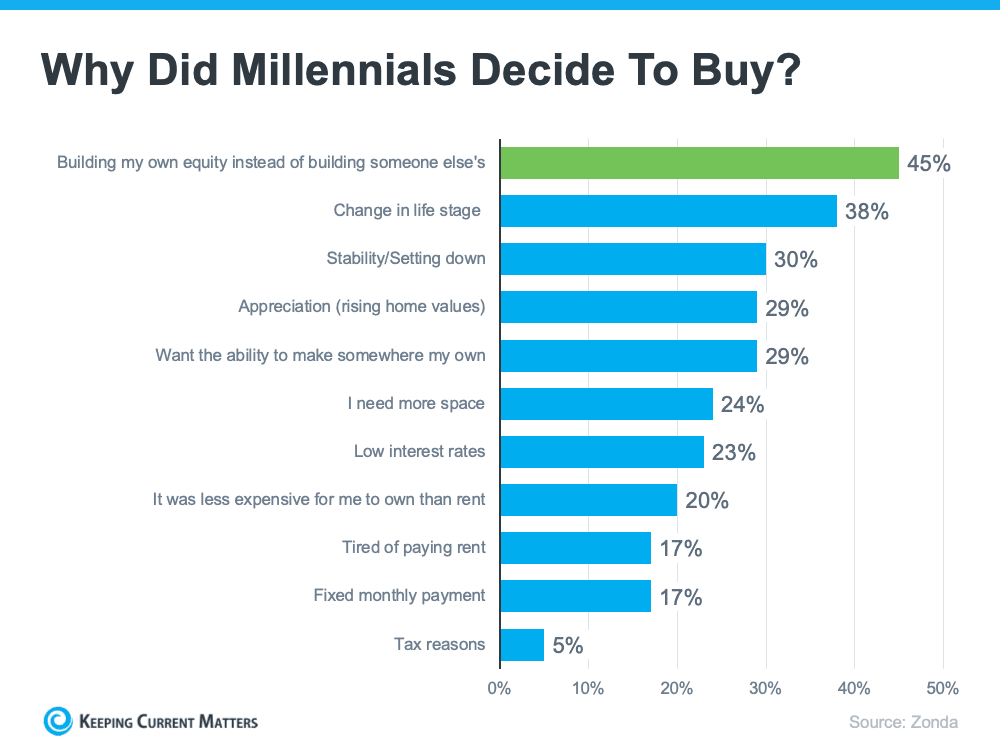 As a millennial, you may be wondering why so many of your peers are taking the leap into homeownership. According to a survey by Zonda, 98% of millennials want to become homeowners at some point if they aren't already. But what are the reasons behind this trend?
Here are the top five reasons why millennials are buying homes, according to Zonda's 6th annual millennial survey:
Building equity: Homeownership is a long-term investment that allows you to build wealth, increase your net worth, and become more financially stable. By owning a home, you're building equity that can help you achieve your long-term financial goals.

A change in life stage: As a millennial, you may be at a point where you need more space or a different location. Buying a home can provide you with the flexibility to accommodate changing needs as you move through different life stages.

Stability or settling down: Buying a home can provide a sense of stability and security. It allows you to establish roots in a community and put down roots. This is especially appealing to millennials who are looking to establish their careers and start a family.

Rising home values: By purchasing a home, you own an asset that traditionally increases in value over time. That means your home may have a higher resale value if you decide to move again.

Wanting to make somewhere "mine": Owning a home gives you the freedom to customize it however you want and be yourself in a place that's solely your own. This can be especially appealing to millennials who are looking to express their individuality and create a space that reflects their personality.
If any of these reasons resonate with you, partnering with a trusted real estate agent can help you explore your options and find the perfect home to fit your needs. With so many great reasons to become a homeowner, it's no wonder why so many millennials are taking the leap.
If you're a millennial who's ready to take the plunge into homeownership, Robb Luxury Home Group can help you find the perfect luxury home to fit your lifestyle and budget. Our team of experienced real estate agents can guide you through the home-buying process, from identifying your needs and preferences to negotiating a fair price and closing the deal. Contact us today to schedule a consultation and start your journey towards homeownership with confidence.